It's apple season in Julian! Get tips from the locals on how to pack a picnic for cider tasting, best time to go, and more.
The saying goes "as American as apple pie", and it's recited quite a bit here in Julian, California. But did you know another true All-American staple and tradition is going on strong in the San Diego back country?
Hard apple cider is making its comeback across the nation and Julian is no exception. During the colonial days in New England cider made from apples was a tried and true beverage and often relied on as clean water was difficult to come by. With its relatively low alcohol content, on average 5% or less, cider was the thirst-quencher of choice for our early settlers. 
This September we set out to sample the best of the freshest cider options available here in the apple capital of California and, unsurprisingly, we didn't walk away disappointed. For this particular article, we focus our attention on Calico Cidery located between Wynola and Julian along route 79.
Don't forget to visit Quinn Knives on your hard cider tasting trip! Just another five minutes down the road you can find us in the heart of Julian's Main Street.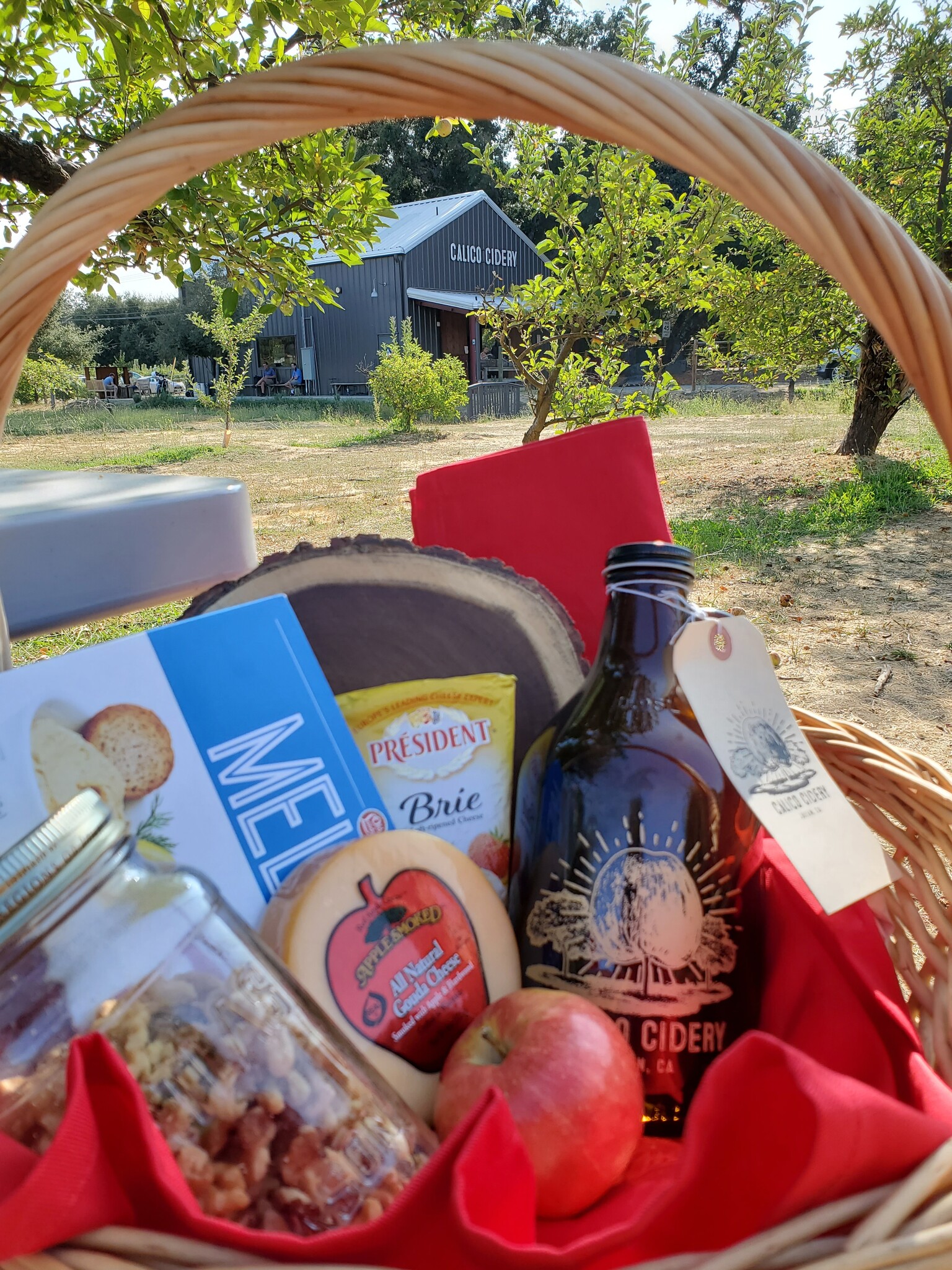 Calico Cidery History
Calico Cidery has deep historical roots in the San Diego backcountry as the farm's orchards were originally planted in the 1930's and includes portions of the original Saunder's Ranch. The Young family has been overseeing the 30-acre farm for the past 20 years and their crops include apples and pears. The Youngs' pride themselves on producing their cider solely from the fruit produced on their ranch and they are also one of the few Julian orchards offering pick-your-own apples (you better hurry, they run out fast). They have over a 100 varieties of apple in their orchards and have been producing hard cider for the past 20 years. 
Planning Your Calico Cidery Visit
Calico Cidery is open for tasting Friday-Sunday from 11 am-until sunset. We recommend taking a half day off from work on a Friday and heading up for an afternoon/early evening tasting to avoid the weekend crowds. Calico Cidery features a very charming barn tasting room with an authentic Victorian era pub bar and seating in and around the barn and also spread out across the rows of it's apple orchard. Whether you want some noise and excitement in the barn area or some peace and tranquility in the orchards Calico has a little something for everyone. We also recommend packing a little picnic basket of some cider tasting accompaniments. It turns out cheese is not only a wine-pairing favorite but also a great companion to your cider tasting. Calico has several different ciders to enjoy and so we recommend a few varieties of cheese for the different levels of fruitiness and dryness that their ciders offer. A creamy brie, a smokey gouda, and a sharp cheddar were our top choices. Please note that Calico Cidery is very dog and kid friendly so feel free to bring the whole family.
The Cutlery
We enjoyed putting a number of knives to the cidery test. We wanted something that felt at home in the pocket or the picnic basket, so here were our top picks.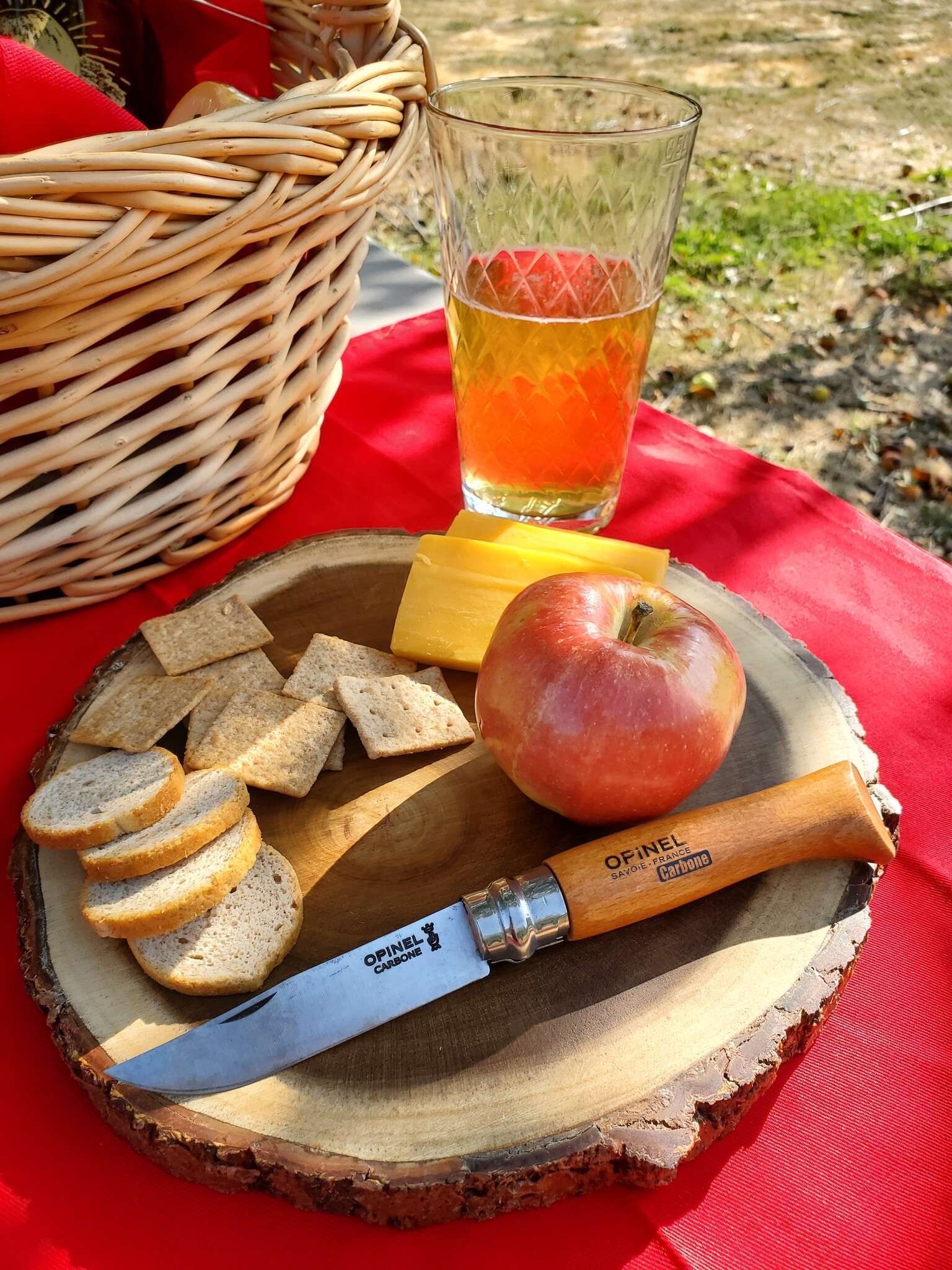 The French-made Opinel No 6 is our usual winery companion to Socal wineries and of course was a natural pick for this trip.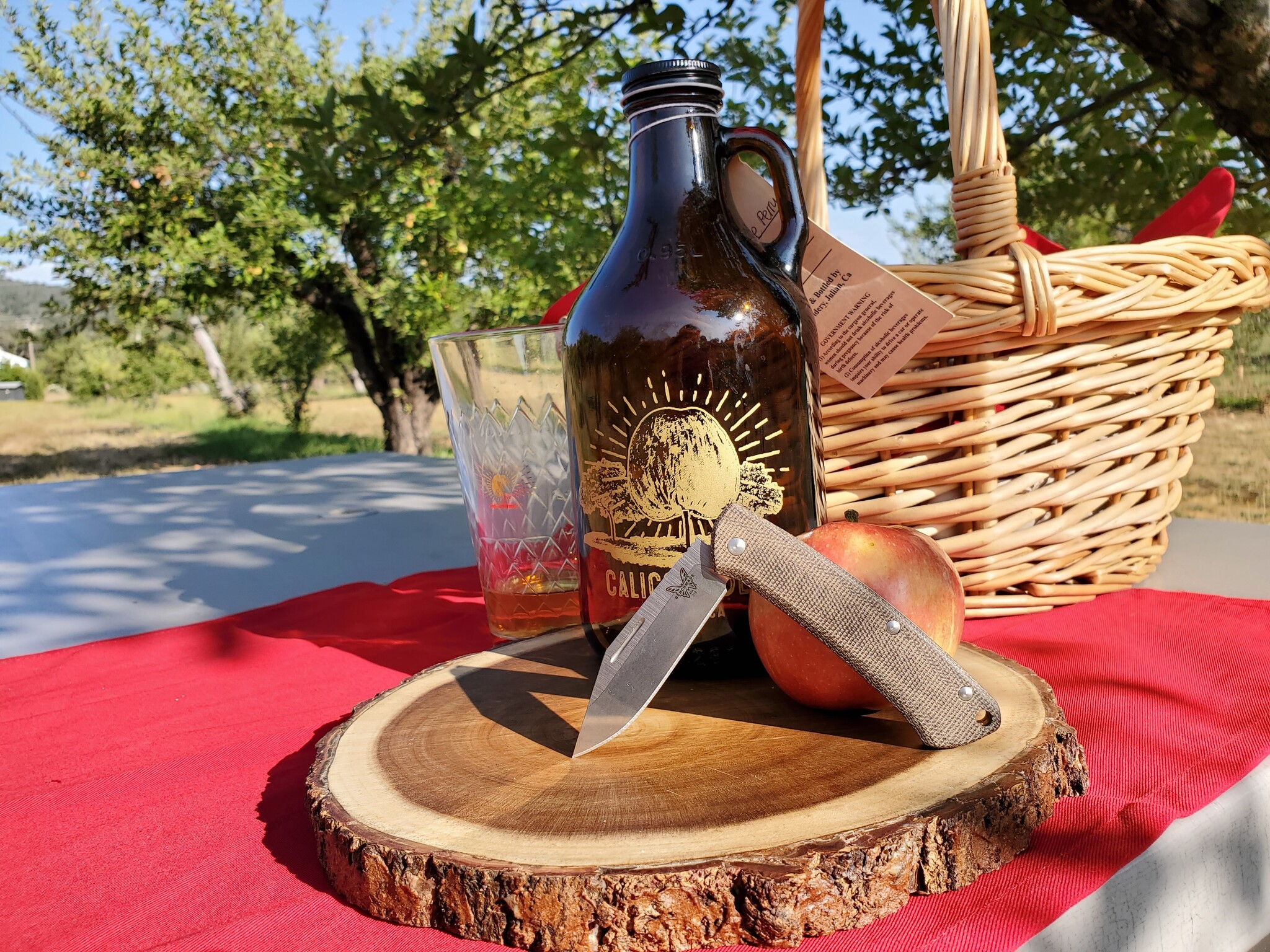 We also brought some more of our every-day-carry favorites to dice up our picnic - the Benchmade Proper.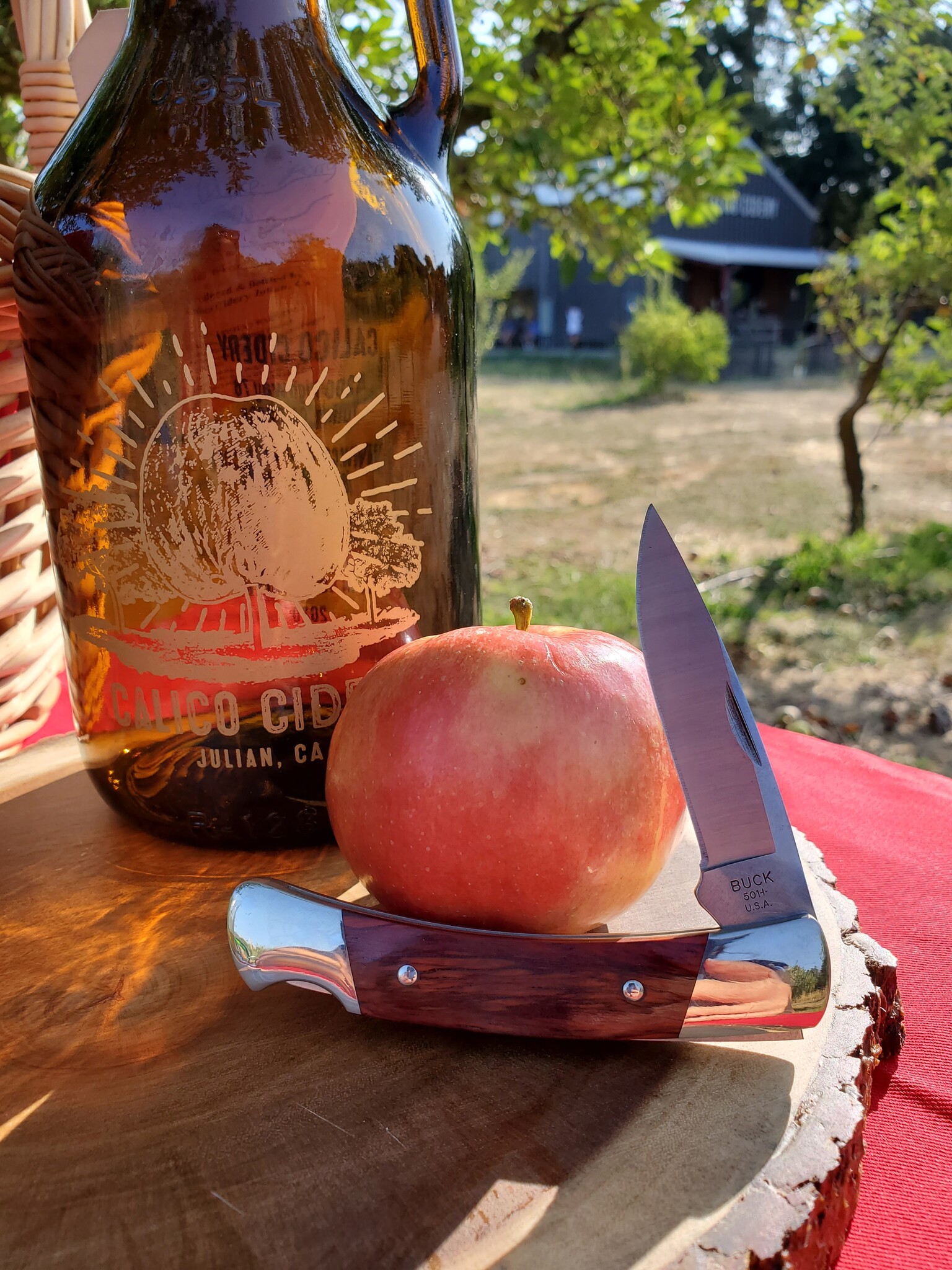 There is of course the ever classic Buck.
Another heirloom favorite is a Case slip-joint.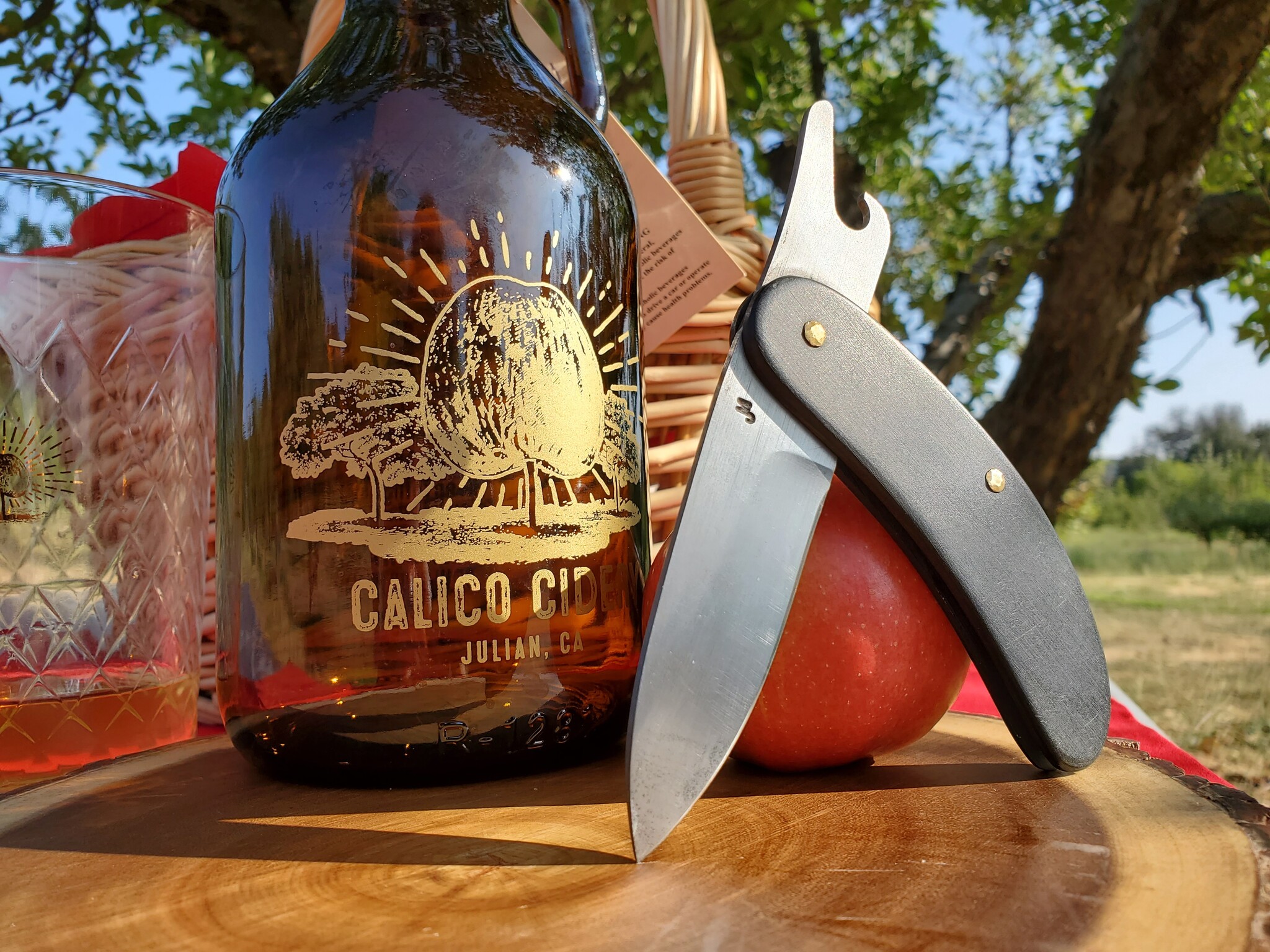 Last but certainly not least, one of our favorites from a local custom maker Jeff Morgan. This handy friction folder is lightweight and has a bottle opener that came in handy.
How to Taste and Enjoy Cider
Calico Cidery offers 3 or 4 tasting flight samplers for you to choose your favorite variety. Cider tasting shares a lot of the same best practices from wine tasting so here are the basics:
COLOR: Ciders can vary in color from ultra-light beige to a deep amber color. The color can give you clues towards the taste of the cider - lighter colors easier on the palette and normally fruitier, while the deeper colors suggest a higher tannin content and a dryer finish more akin to white wine. You will also notice variance in translucency - unfiltered ciders will be a bit more opaque than it's crystal clear counterpart filtered ciders. 
BUBBLES: Some ciders will be sparkling and others will be flat like a white wine. Our favorite was varieties that had a "petillant" or light carbonation.
FIRST SIP: First impressions are everything! So take your time to savor that first sip of your taster. You don't have to be as dainty as an initial wine sip but certainly don't guzzle it like a beer! Take a mid-size sip and allow the cider to run over your tongue and identify key flavors and characteristics of the cider. An excellent cider masterfully blends the sweetness and tartness of the apple and the exceptional cider will give a hint of an additional secret ingredient such as citrusy notes of a grapefruit, or a tropical twist of Pineapple, or herby overtones (like the Chamomile in Calico's Pineappleweed Perry cider). 
TEMPERATURE: Calico Cidery serves all of it's cider at a very pleasant chilled temperature, but we noticed our cider would surprise us with deeper fruity overtones as the sun kissed our glasses on our picnic table serenely planted in the orchard row itself. Some ciders are recommended at room temperature, it's best to refer to the cidery for its optimal serving temperature for each variety.
Our Favorite Ciders
 Everyone's palette is different and so the four flight taster really helped us narrow down to our top-picks for the take home 32oz Calico Cidery growlers.
Jen's top pick - I am a big fan of super dry wines and beers like IPAs, and so the Calico Cidery Dry cider was easily my top favorite. It's also the highest alcoholic content cider of the bunch so achieving that cheery day-drinking buzz was possible (don't judge me!) The Pineappleweed Perry cider was my second runner-up, I do adore unique flavors infused into my drinks and the pear cider with the Chamomile notes was very memorable.
Alex's top pick - The Quince Perry cider was just the right blend of fruity refreshment and bubbles for my liking. If I'm drinking cider I want to taste some apples! But I did enjoy the Dry variety as well. 
Next Up: Julian Hard Cider
September "Apple Month" activities continue and one of Julian's most famous cideries is next on the list - Julian Hard Cider tasting room at Julian Station.